Be Prepared – Hurricane Season is Here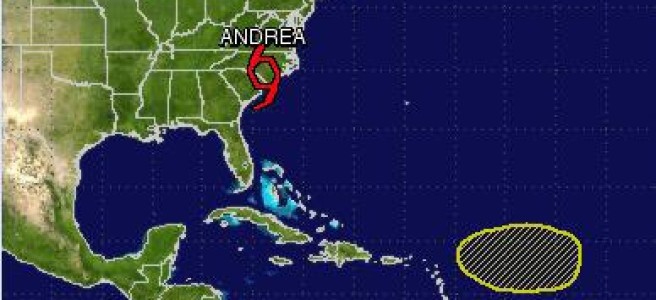 Tropical Storm Andrea the Beginning of Hurricane Season
According to the National Weather Service, the official formation of tropical storm Andrea began Wednesday evening and Westchester County had already begun to prepare itself for the storm to hit today. (Friday)
Andrea is currently a low pressure system in the Gulf of Mexico. Thankfully, it is not expected to grown into a hurricane, though the national weather outlook has issued a hazardous weather outlook for the 2 to 2.5 inches of expected rainfall from Friday into Saturday.
The Hurricane Center in Florida reports that the tropical storm is said to make landfall soon. It is reported to have winds of 60 mph moving at 17 mph to the northeast as of 2pm ET and the center of the storm was 35 miles west-southwest of Cedar Key on Wednesday and has already spawned 20 tornadoes in Florida. This was reported by USA Today.
An article by the same paper states that, in the event of a hurricane, you should forget about rushing around to find plywood or tape for your windows and prepare yourself and your home the smart way.
Here are some important things the recommend you think about when preparing  your home and yourself for a hurricane or tropical storm:
Secure all glass/sliding doors & windows in the event of flying objects.
Remove dead or weakened tree limbs from your property.
Know if you are in a flood zone in case of evacuation.
Know where you are going to evacuate to & have a plan to contact your family.
Have a bag of basic necessities, such as medications, ready in case you have to evacuate.
Keep a survival kit ready (should contain water, a first-aid kit, & non-perishable food).
If you have time before the storm watch is posted, put plywood & tape over your windows.
Remember to prepare well before a hurricane or tropical storm are on the way. The safety of your family is your number one concern. Thinking ahead is the best way to be safe through the hurricane season.