Celebrate the 4th – A Pina Colada Recipe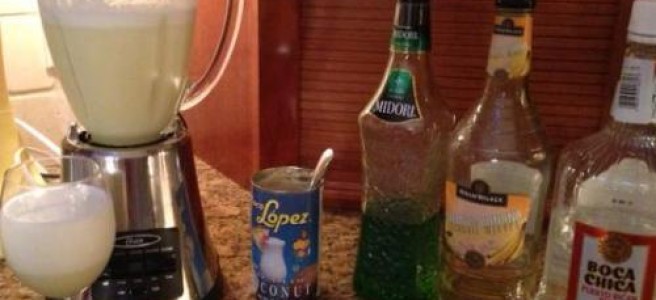 What better way to celebrate our nation's independence than with a frosty, cool cocktail?
Our annual celebration of Independence Day is upon us,  and like most folks we'll be kicking back and relaxing, possibly barbequing or seeing that hot new movie that opens this week.  Now that summer has finally decided to arrive with its high temperatures and muggy heat, what better way to keep cool than with a frothy, icy beverage?
One of our favorites is a variation on the Pina Colada that we first enjoyed at the Hard Rock Cafe in San Juan,  Puerto Rico. They made it with raspberry rum, but you can use any rum. We find the best is a coconut rum, but either way here's the recipe.
Banana Colada
Fill your blender with ice. Make sure your blender can chop ice first!
Add 8 one ounce shots of your choice of rum.
Add 1 one ounce shot of banana liqueur.
Add 1 one ounce s hot of Midori.
Add 1/3 can of Cream of Coconut.
Add 2 of the small cans of pineapple juice.
Blend and then serve!
It's a pretty simple concoction to whip up, and your adult guests will appreciate your skills!
Remember, drink responsibly and don't drink and drive!
Enjoy the holiday! Happy Fourth of July!